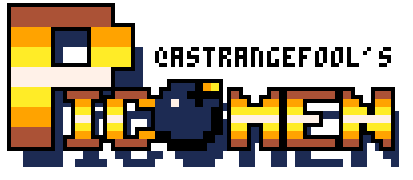 Picomen
In a shocking turn of events, I've actually finished the game to an acceptable state! This version comprises the finished 'post-jam' content for the game, notwithstanding any balance tweaks/bug fixes.

Picomen version 2 includes three story lines, branching quests, challenging new bosses and several UI improvements to make the game more... more than ever before!

If you play one game made by astrangefool today, play this one.
Files
picomen_2.0.0_html.zip
Play in browser
Feb 11, 2021
picomen_2.0.0_windows.zip
1 MB
Feb 11, 2021
picomen_2.0.0_linux.zip
674 kB
Feb 11, 2021
picomen_2.0.0_osx.zip
3 MB
Feb 11, 2021
picomen_2.0.0_raspi.zip
1 MB
Feb 11, 2021